2018 Toyota Yaris Walk Around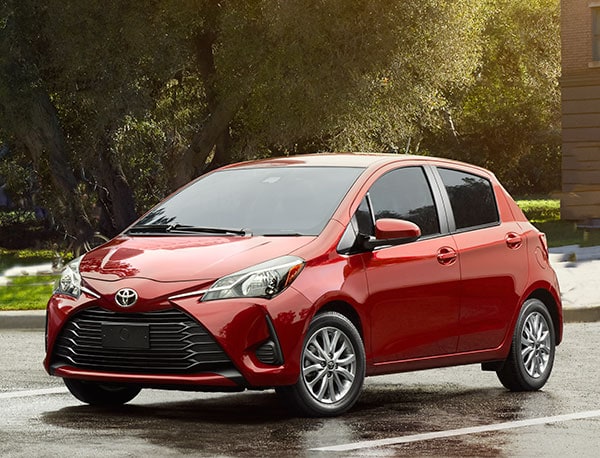 Revisions to the hatchback body for 2018 may be comparatively minor, but every step helps in improving appearance. Several hatchback design details appear to be borrowed from Toyota's Prius, including the pointed front bumper. Hatchback bodies are rather slab-sided, though the five-door comes across as more appealing.
Toyota hasn't tried hard to conceal the iA sedan's inception as a Mazda model. Overall, the iA conveys a tidy look, but with few distinguishing details. Except for the front end, little evidence of corporate Toyota influence can be seen.
Interior
Front occupants in either version of the Yaris won't face a shortage of space for adult legs or heads. Not much difference is evident between body styles, except for wide frames and supportive cushions in the hatchback. Tall drivers might have a hard time achieving a comfortable position in the hatchback, because seats don't adjust much.
Unfortunately, those two are the only passengers who can expect comfort. Although the hatchback's wheelbase is comparable to that of Honda's Fit, the latter provides 6 more inches of rear-seat legroom. Seats in the Yaris SE are a bit more sporty.
The Yaris iA is only slightly better in back-seat space, though a tad more ergonomic in design.
Split-folding rear seats fold forward to increase cargo space, but the hatchback's load floor isn't totally flat. With seatbacks upright, the hatchback provides 15.6 cubic feet of cargo volume (15.3 in the three-door). For its class, those are respectable figures. The iA sedan's trunk holds 13.5 cubic feet.
Neither Yaris version is particularly quiet, though acoustic windows in upper trim levels can stifle some engine thrumming.
Cabins of each Yaris are rather plain and ordinary. Both include touchscreens (6.1 inches in hatchback, 7.0-inch for iA sedan). However, neither Yaris includes Apple CarPlay or Android Auto connectivity.