2018 Toyota Yaris Driving Impressions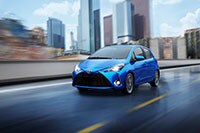 Appreciation for the Yaris depends on the body style, but both tend to be slow as well as loud. The Yaris iA sedan can be pleasant and even fun to drive.
The Yaris hatchbacks are harder to like. Continued use of a 4-speed automatic, in this era of 6- and 8-speed units, inevitably restricts performance. Undeniably, the hatchback serves as a best-forgotten reminder of the old econobox era, when frugality handily outranked performance.
Both versions deserve credit for keeping a manual transmission available, even though most buyers prefer automatics. With the Yaris iA sedan, the manual gearbox is almost a necessity, to extract every last bit of horsepower from the overmatched engine. The manual is even more essential for the Yaris hatchbacks, compared to the widely spaced gear ratios in its outmoded 4-speed automatic.
At least, the iA compensates for its shortage of power with precise, well-weighted steering and generally satisfying suspension. Ride comfort and handling qualities are reasonably good.
The Yaris hatchback has its merits, too. Relatively soft springs help keep it steady when rolling over bumps and traversing harsher pavement. Handling from the Yaris SE hatchback benefits a bit from a stiffer suspension, but it isn't sporty.
Fuel economy, as expected, is a plus. With automatic, the Yaris iA sedan is EPA-rated at 32/40 mpg City/Highway, or 35 mpg Combined. Manual shift drops the estimate to 30/39/34 mpg. Hatchbacks are EPA-rated at 30/35 mpg City/Highway, or 32 mpg Combined, with the 4-speed automatic. With 5-speed manual, the hatchback is just a tad thriftier, EPA-rated at 30/36/33 mpg.