2017 Toyota Avalon Summary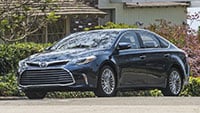 Truly spacious as well as stylishly modern, an Avalon might not stimulate the senses, but it delivers the goods in comfort, ride/handling, and performance. XLE and XLE Plus trim levels tend to be the best values, while the Limited closes in on Lexus territory. Hybrid fuel-efficiency is hard to pass up.
Driving impressions by Marty Padgett, The Car Connection. James M. Flammang contributed to this report.