2016 Toyota RAV4 Summary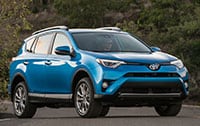 Toyota RAV4 offers ample interior space and desirable features, coupled with reliability. The RAV is neither the smoothest nor the sportiest car in its class, but it's highly competent, very practical, and living with it is easy.
Driving impressions by John Voelcker, The Car Connection. James M. Flammang contributed to this report.