2016 Toyota RAV4 Driving Impressions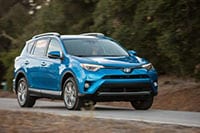 Tuned for efficiency, the transmission typically shifts to a higher gear as soon as possible while driving around town. Responses are a bit sharper in Sport mode, as the transmission makes downshifts smoother by blipping the throttle momentarily. The SE model's paddle shifters seem only to emphasize the engine's relatively flat power delivery.
On the road, the RAV4 is responsive, but far less sporty than a Mazda CX-5 or Ford Escape. Riding lower than typical compact crossover SUVs, the RAV4 has only 6.3 inches of ground clearance.
Steering is nicely weighted, but Sport mode can tighten it further. Shock-absorber damping is a little firmer in an SE, but the difference is barely noticeable. The RAV4 does not offer the suspension compliance provided by a Honda CR-V or Hyundai Tucson, so the Toyota doesn't ride as smoothly.
The RAV4 Hybrid can accelerate up to 20 mph on battery power alone, if driven mildly. Otherwise, the gas engine is likely to kick in at below 10 mph. Typical of most Toyota hybrids, the gasoline engine emits quite a howl when accelerating hard.